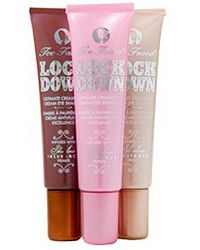 Product description from Sephora:

Too Faced LOCKDOWN Ultimate Creaseless Cream Eye Shadow combines deep metallic pigments with Shadow Insurance's anti-crease base to create a staying power that is unmatched. This beautiful, long-wearing formula is easy to apply and your peepers are protected from creasing, fading, and smudging.  Size: 0.28 oz, 8grams
MY REVIEW:
These are Too Faced version of shimmery cream eyeshadows. The various shades are  infused with Too Faced's famous shadow insurance.
PRICE:
PACKAGING:
Comes in a box with very colourful design of the word "Lockdown".
The actual tube is just a plastic tube in  a similar shade to the actual product.
Twist cap in a squeeze tube.
Small tip where the product comes from.
SHADES:
Bedroom Eyes:  shimmery reddish brown although Sephora calls it shimmery taupe
Bondage : shimmery ivory champagne
Dramarama: shimmery chocolate brown
I'm Guilty: shimmery teal blue
Jailbait: shimmery pale pink – looks a bit frosty if application is heavy handed.
Prisoner Of Love: shimmery  pink although Sephora calls it shimmery soft pink
FORMULAE:
Texture: Cream to powder formulae.
Blendability: Not bad.

Lasting Power: Lasts only 4 hours…creasing present on one eye. The other eye has no eyeshadow left (I wonder where it went?). If I top off with powder, it lasts about 6 hours.
EFFECT:
Well…the Lockdowns are pretty shimmery…some of the lighter shades have very sparse mini microglitter  but the glitter disappears if u spread out the product. It dries pretty fast so you have to spread it out fast. I use my fingers for application.  Gives a nice wash of shimmery colour.
VERDICT
Well…depending on how much $$ you have…if you want to save on $$, just get the plain Too Faced Shadow Insurance to use as a base.  If you want a shimmery eyeshadow that doesnt crease and has quick application for those busy morning use…these arent that bad.
Hope these help!
~nutty
p.s: Please comment!
1) Have you tried this before? What's your verdict?
2) What is your favourite cream eyeshadow? Why it is your favourite cream eyeshadow?
3) What do you think constitutes a great  cream eye shadow?